I arrived in Bali this week and went straight to my favourite hotel: Pull Man Hotel in Legian. They are a 5 Star Hotel with 5 Star service.
This is my second time here and I was so impressed the first time; I've returned. Its not far from the Denpasar airport (about 20 minute drive). The rooms are moderately priced but first class interior and washing facilities. They have two large swimming pools – one nestled on the ground level with considerable palm tree shade. And the other pool on the roof of the main entrance building.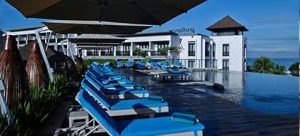 What also impressed me was when I used their Executive Office room and, blow-me-away everything worked- the office was immaculate and the computers and printer worked first time (and without asking for assistance/ passwords etc). I had a document scanned and sent off with no hassle: very impressed.
The Spa Centre has great massage and wellness sessions to make you feel rejuvenated. Daily activities are considerable ranging from Yoga, Tai Chi and walks. Night time entertainment ranges from outdoor movies and bands.
I use the gym facility everyday  (open 24 hours) and has everything you need for a great workout.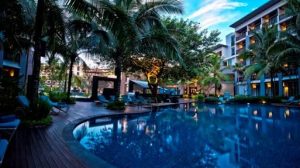 The restaurant for breakfast has a great selection of foods and the service for coffee was exceptional. I am relaxing and writing in a great frame of mind. The staff are all very friendly and helpful. I've noticed, during off-peak moments, the hospitality staff have regular meetings about maintaining high standards of service; so they really care about their guests and it shows.
This is what exceptional hotel service is all about. 5 Stars.
Jason