This is my first time staying at the Hilton Hotel in Colombo. I have always found Hilton to be great value and a first class establishment. So it's good to come back.
Previously in Colombo, I initially stayed at the Kingsbury Hotel until they could not extend my stay mid year so I went to Cinnamon Grand. I enjoyed my stay there but I recently found that 6 weeks after I stayed there; they decided to take a large sum of extra charges out of my credit card (not Impressed).
Hilton has great rooms and the lobby interior has obviously been redesigned recently (the video above is the most recent) and has a great welcoming feel. The staff are excellent service providers and the breakfast in the morning has a great selection of delicious foods (and the best coffee in Colombo!).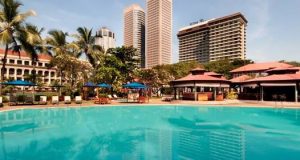 I am enjoying my stay here and highly recommend it 4 Stars: I'd give 4 and half stars but the location of the gym and pool is a bit inconvenient being across the road. But once there it's a great set up.
Take Care & Cheers
Jason