Free Kindle Book Subscription Lists.
Since February this year I have subscribed to just five sites for a daily email list:
1) Awesome Gang;
2) It's Write Now;
3) BookGoodies;
4) Free Kindle Books and Tips; and
5) Bookzio.
All these sites send me an email everyday advising me what eBooks are free on Amazon. If you go into Amazon, they also have the Top 100 free eBooks that authors have made free for faster promotion. I recommend you check this list on a daily basis- as some titles are not in the above subscription lists. Also, many of the eBooks have a display in the Top 100 of only a day; so it pays to check this list regularly.
I now have over 5,000 high quality eBooks- and not one of these did I ever pay for. And I have no doubt, that if I were more interested in Fiction eBooks, that this number would have easily been over the 20k mark in under a year. I have come across many authors I wouldn't have otherwise, and have purchased their other titles on the basis of their original free promotion.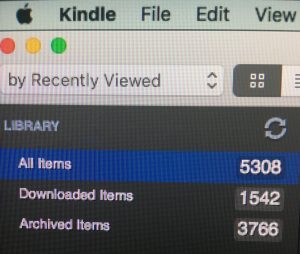 The successful internet entrepreneur, Tai Lopez, regularly reads a book a day stating: Leaders are Readers. Jim Rohn, my favorite of all the success/life coach/philosophers states emphatically: that your success as a person hinges on your ability to educate yourself and build a success library (he even once said he hadn't read all the books on the shelves but felt smarter when he walked in to the room).
Today, we are blessed to have Kindle eBooks, compact files that take up little space on our iPads, smartphones and desktop computers. In this instant gotta-have-it-now age we live in, kindle is the way of the future and they have well and truly overtaken printed books for sales on Amazon (I still like my printed books, the feel and smell of them is often therapeutic. But the great Kindle features like: highlighting, instant chapter headings, inbuilt illumination for night-reading and fast page turns are very appealing as well).
I like my success library subjects to range from: Leadership, Marketing, Law, Politics, Science, Health & Fitness, Education, Philosophy, Productivity, Discipline, World Travel, Spirituality etc. Usually self help and self reliant eBooks along with some classics. Occasionally, a compelling fiction eBook will come to my attention and I will download it for night time reading.
I first came interested in these sites as a way to promote my Amazon eBooks:
The Akashic Telescope: Order From Chaos Parts I & II;
Sarah Winters' Series of Books; and the
Bad Boy Seeks Nice Girl Series of Books.
When I promoted my ebooks on these sites they all made it into the Amazon Top 100. The Akashic Telescope: Order From Chaos Part I, made it to #4! I had over 25+k downloads which allowed me to build up a fan base.
Please know: there are some eBooks in these free sites that do have a price usually .99cents. But it is entirely up to you whether you want to pay for it or not. I sometimes use the Free Sample feature on the Amazon page where you get 10% of the eBook- you then decide if the quality is worth paying for.
There are some other sites and email subscription lists. But I found the above sites suitable to my needs- you can only read so many books at a time. No doubt the list is bigger and new services will come available online, These sites may be better and you should be eternally vigilant and try most of them out. When it comes to free item lists; who provides the better service should always win.
Gradually, over time, you will build up a success library and have the best advice at your fingertips.
The good thing about Kindle is the highlight feature that allows you to see all the important points in one page. I often refer to this as an expedient way to get to the main points.
However, a big library is nothing without the regular habit of perusing- overviewing and scanning your downloads. Otherwise, you will build a huge collection and be overwhelmed with what to read. So make it a daily habit to review 5 to 10 eBooks a day. With a quick scan at least- you will know an important point when you see one and quickly highlight it for future reference.
So gradually build up your Success Library and work on self-improvement and education. Have an eBook subject at hand that was once temporarily free at a particular time; but now has a price attached to it on Amazon (as well as Barnes & Noble, Apple and Kobo etc where many of the same titles are also displayed).
Your daily self-improvement, like your knowledge base gained from your library, will gradually have you becoming the person you always wanted to be: Knowledgeable, erudite, effective, efficient and self-reliant. All the qualities I continuously strive for.
Take Care & Cheers
Jason
Links & References:
29 Best Site for free Kindle eBooks.
https://www.thebalance.com/places-to-get-free-kindle-books-1357954
This site also has a list of Free Audio Books ideal for travellers and commuters etc.
Awesome Gang
It's Write Now
BookGoodies
http://bookgoodies.com/subscribe/
Free Kindle Books & Tips
Bookzio
www.bookzio.com
Amazon Top Free 100 Kindles eBohttps://www.amazon.com/Best-Sellers-Kindle-Store/zgbs/digital-text/ref=zg_bs?_encoding=UTF8&tf=1
All Rights Reserved Jason A Briggs Copyright ©2016